Sunday, February 24th, 2008
---
11:46 pm
- Miranda's Macomb Review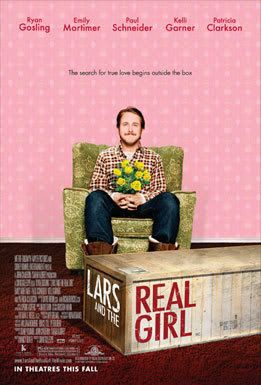 A-

This movie blew me away.
At points I thought I might cry, only to laugh out load within moments.

The story is about Lars, a man living in the garage of his childhood home while his brother and sister-in-law occupy the house. He suffers from a social disorder due to his mother's death that occured when he was born. He ends suffering a delusion: that his life-size sex doll is a real woman. Despite the topic, it's not crude or vulgar in any way and a lot of the movie takes place in a church. The acting is great and at times seem more like real people than actors.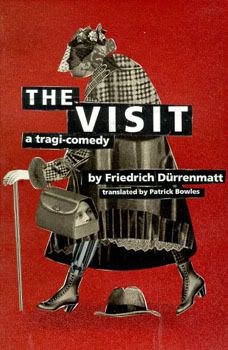 B+

I enjoy school productions. This play was about a woman who left her home town in the middle of nowhere Europe after WWI. She had been shunned from the town. Clara returned to the town thirty years later a multibillionaire. She told the town she would dotate one billion marks to the town; fifty to the town and fifty to be split up to all the residence per capita on one condition: they kill her exboyfriend. At first, they say no, that they're proud humanitarians.

"All right. I'll wait."

She sits tight in a hotel.

Slowly, the very poor towns people start buying new things on credit and the ex boyfriend becomes terrified.


I had goosebumps and the costume director deserves a handshake.





A+

A Buffalo Wild Wings just opened today on East Jackson sharing a parking lot with Walmart. They promised free wings for a year to the first one hundred people in the door. (Actually, it's six free wings a week for a year, but still!) My friends went and set up camp around four-thirty yesterday and were the eighth through eleventh person through the door. I had planned to join them with Lynnea after she got off work at one, but I left my cell phone in Veronica's car and couldn't get ahold of anyone until four-thirty; I had just lied down for about twenty minutes when Lynnea and Billy returned to the room to escort me to the party in the parking lot. But I declined; Billy planned to attend, but doesn't like wings. He offered to share his coupons.

While we were meeting the first small group that was already set up (with tents and bon-fire grill included) the manager came out and talked with us. He then ushered four types of wings and two baskets of potato wedges on a serving tray and set it up on legs for us. Free. The wings were steaming in the cold, winter air.

Liz and I had a girls' night and went there for dinner tonight.

Parmesan Garlic
Honey BBQ
Asian Zing
Caribbean Jerk


There are many other sauces but those are the ones I've tried. Only the first two do I enjoy.



Wednesday, February 20th, 2008
---
12:13 am
- Spring Semester 2008

As this is the sixth week of term, I do apologize for taking such a tremendous amount of time updating.
First thing first, the roommates!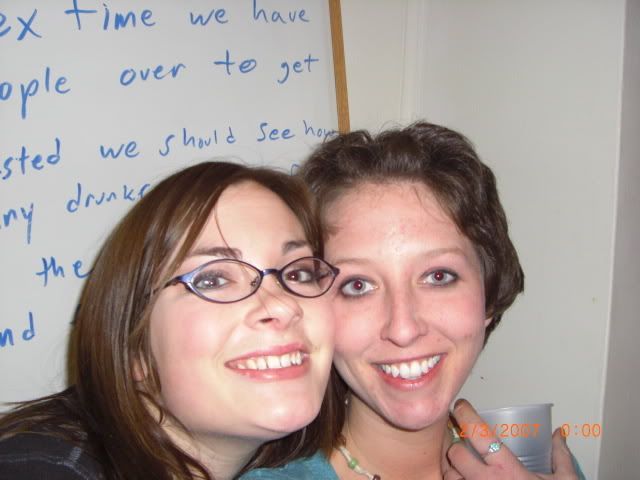 This is Lynnea Fung. She is from Ringwood, Illinois, a town that sits very close to the Wisconsin boarder, somewhere between Rockford and Waukegan. Nineteen years old and a sociology major, she's a bit of a spit-fire who naps often. She reminds me a lot of my cousin Paige minus the gangsta influence. Snow boarding is one of her favorite past times.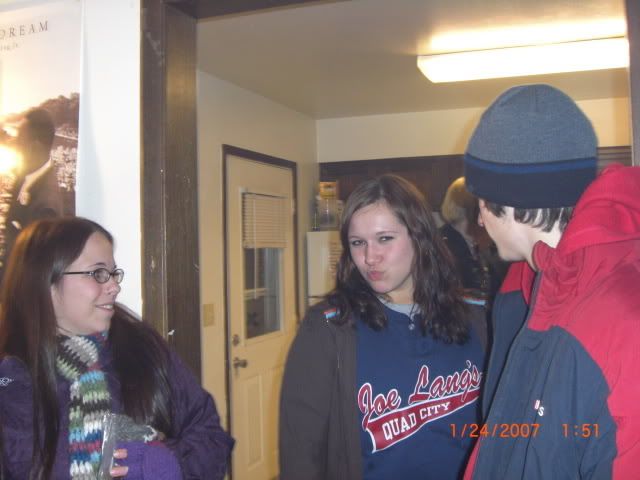 The lovely lady in the middle is Veronica Brown. Chapin, Illinois is her hometown and it's about thirty miles west of Springfield. A twenty year old Recreation, Parks and Tourism Administration (RPTA) major. She and I work out together and we also enjoy long drives through the surrounding countryside.

Both Lynnea and Vern work at a local hot dog joint and have their own cars at school. They're very generous when it comes to transporting me around when the weather is toying with tundra-like severity.






Art 350: Painting I
M/W 2:00- 4:30
Brett Eberhardt

I'm not going to lie; I don't find myself to be a very superb painter. Then again, I've now done three oil paintings in my life so maybe I should cease with the self critism and wait it out. It took a lot of time for my drawing skills to develop. One thing is for certain, I put a lot of time and effort into my lousy paintings. = ) Brett reassured me by saying he really likes my brush strokes, that they're loose and fluid. "They're not tight or overworked. Don't lose that," he told me during a critique.


WS 285: Multicultural Women
T/Th 9:30-10:45
Polly Radosh

Third class with this professor or fourth, I can't properly recall. Professor Radosh is the head of the Women Studies Department and one of my favorite professors. My RA, Michelle, is in this class with me. We had our first exam today; Michelle and I were up at five this morning proof reading the two essays that were to be turned in with the exam. I scored a 96%.


Art 101: Design I
T/Th 11:00- 1:30
Susan Czechowski

I adore Susan. She's young and hip and we've been known to socialize outside of the classroom. She was in Vagina Monologues with me.


Art 240: Drawing II
T/Th 2:00- 4:30
Damon McArthur

Drawing II is my favorite class. At the beginning of the semester I was very worried. My drawings were turning out poorly and I couldn't figure out what I was doing wrong. The rub was that I hadn't picked up a piece of charcoal in months. I was rusty. Sometime during or just after the second week of classes something clicked and my work returned to were I had left off. Damon is a tough grader but I put enough time into my drawings to meet his standards.




I'm aware that my schedule looks very light but it's not. Each of my art classes require three hours of studio time outside of class in between each lesson. That means I spend a lot of time in the art building, Garwood. I'm very fortunate that I live about two hundred feet away from Garwood. Very, very lucky.

Again, I apologize for the delay, but now that I've got the ball rolling, regular updates can be anticipated.

Love ya.



Monday, January 1st, 2007
---
11:28 am
- New Place


This was the night I moved in.
Pig tried to help me organize.
But basically, he just ran around.





Man, I never thought I'd get it all put away.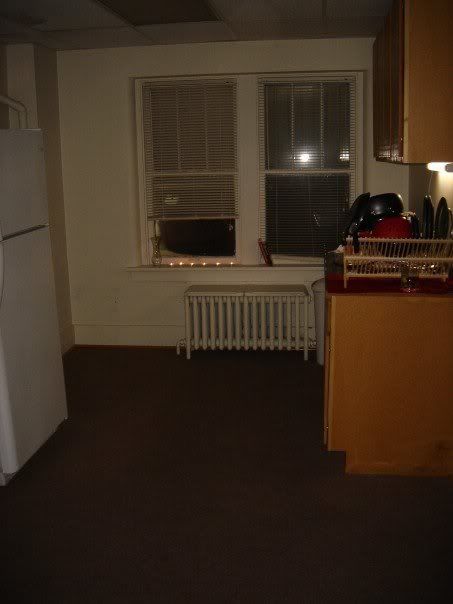 Last night, when I made a nice dinner for Jeff.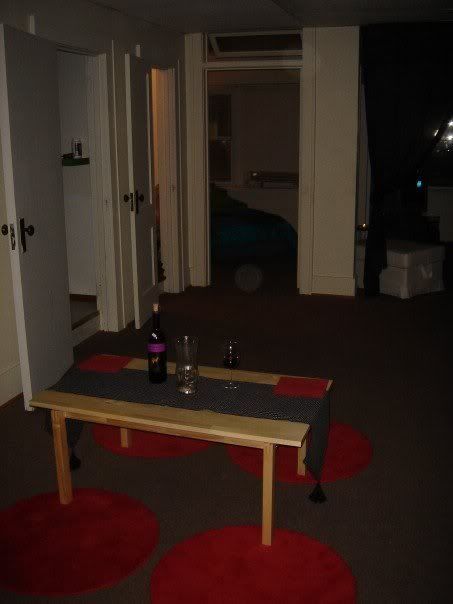 Here's my coffee table turned dining table.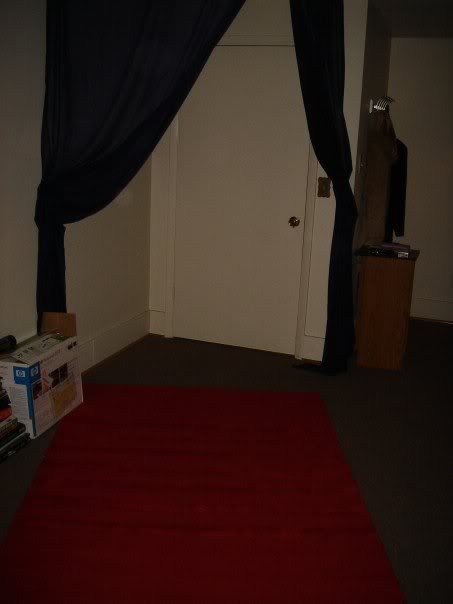 Door at the top of the stairs.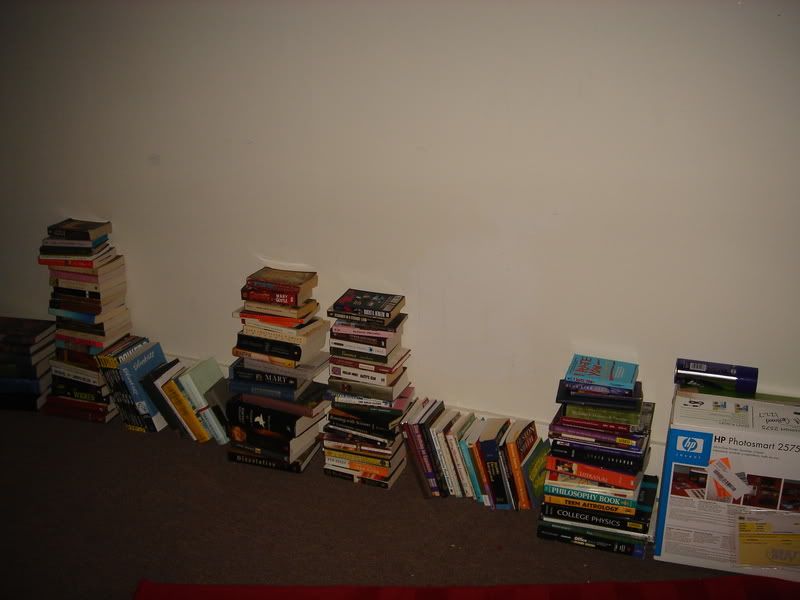 Eh, no good place to put my books, except on the floor, in categorized piles.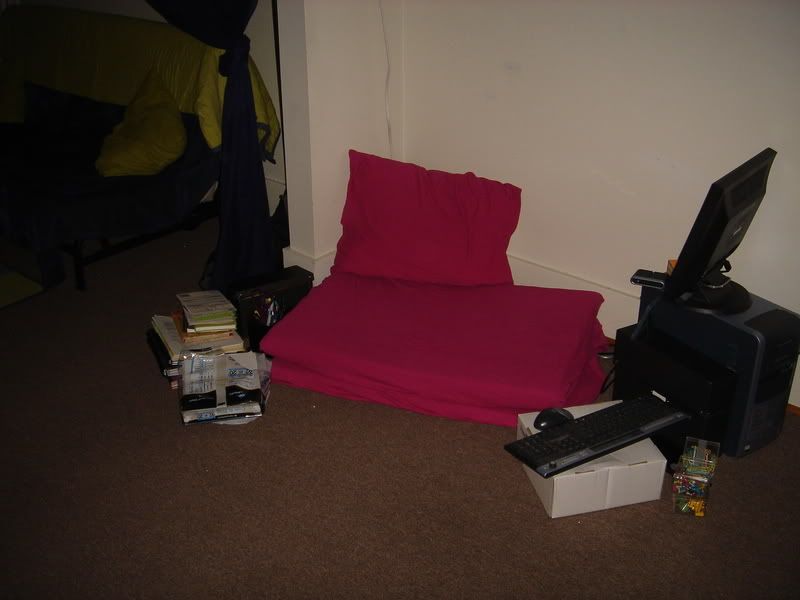 Same goes for the computer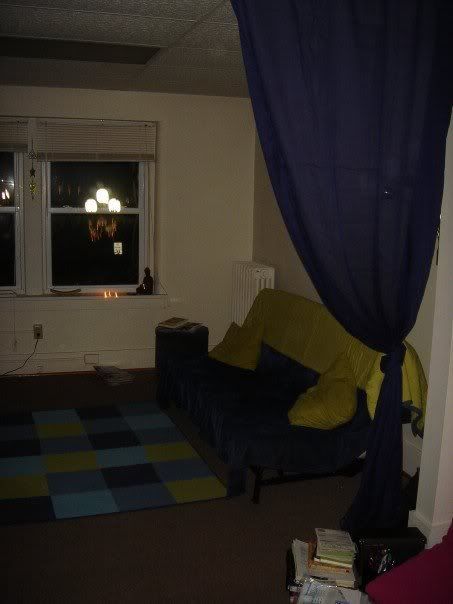 Living Room
Note the Buddha and incense in the window.
(My favorite part)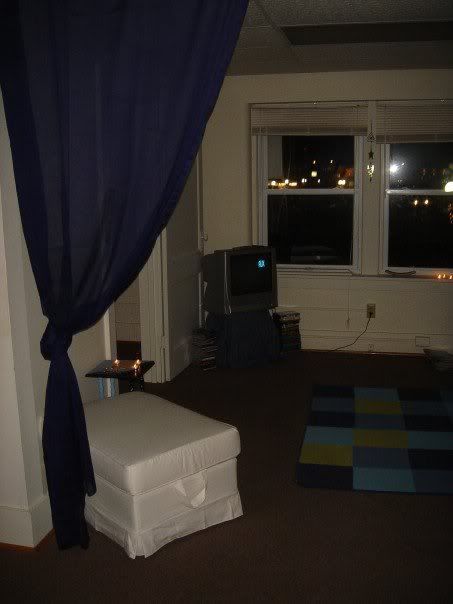 More Living Room.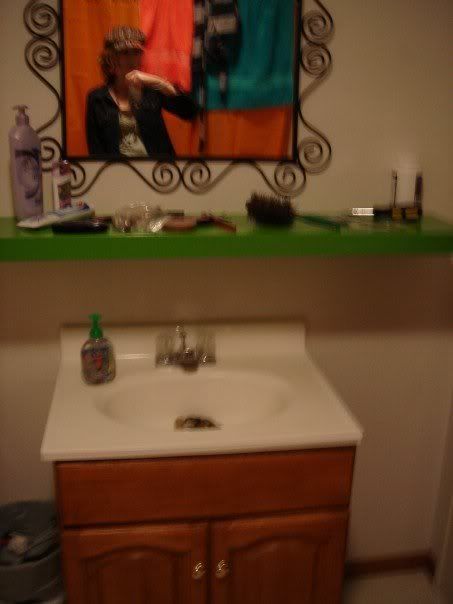 Bathroom, now with a mirror and a shelf.
Also, stones in the bottom of the sink.
Very good for one's chi.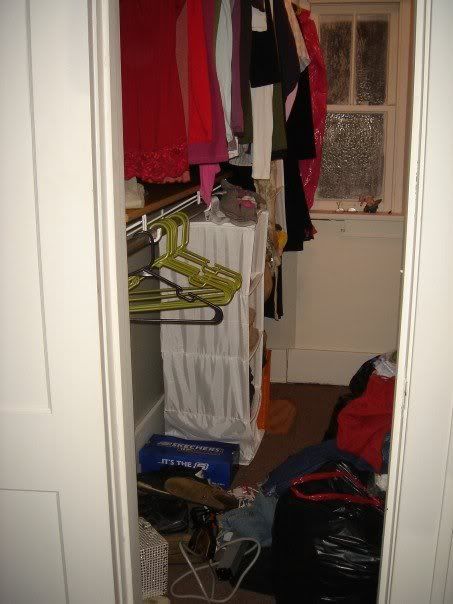 Semiorganized closet.





Bedroom.




Monday, December 18th, 2006
---
2:52 pm
- Too Late to Change My Christmas Requests

LOOK AT THIS!!!

http://www.apple.com/ipod/nike/


It's pure genius, pure synergy in motion. It's so beautiful. I'm so sold, hooked, dead-set. It's going to happen. I love running. I love music. I love running with music. Jeff and I were already set on Ipods for each other for Christmas, and now it's without a doubt. I'm so glad my running shoes are a year and a half old; that way I won't feel so bad. Oh gosh! What brilliant minds those Mac and Nike people are!


http://www.nike.com/nikeplus/#tutorials


I'm quite excited to start running regularlly again.


Tuesday, December 12th, 2006
---
4:39 pm






The quality isn't that great.
Make sure your speakers are turned down for the first part;
the wind is a little loud.
But after that, turn them back up.
There's commentary.



Thursday, December 7th, 2006
---
11:12 am
- Cuteness


Watch this.
Jeff and I filmed it when Titus Pullo was still a baby.
Monday, November 6th, 2006
---
3:39 am
- Just a Little Early
Christmas List
For those asking already...
Books

In order of most desired




The Virgin's Lover
by Philippa Gregory

The Six Wives of Henry VIII
by Alison Weir

The Life of Elizabeth I
by Alison Weir

Emma
by Jane Austen

Son of a Witch
by Gregory Maguire

Northanger Abbey
by Jane Austen

The Other Boleyn Girl
Philippa Gregory

Death of a Salesman
by Arthur Miller

Lady Chatterley's Lover
by D. H. Lawrence

The Bell Jar
by Sylvia Plath

Katherine
by Anya Seton

Picture of Dorian Gray
by Oscar Wilde




CDs

In no order at all

Brushfire Fairytales
Jack Johnson

On and On
Jack Johnson

Give Up
The Postal Service

Details
Frou Frou

Feels Like Home
Norah Jones




Wednesday, October 25th, 2006
---
1:49 am
- Long Time No Update

Without further ado...



HI! Welcome to Year II. Sure, I'm already picking out classes for next semester- which means I've totally left you all in the dark as to the happenings of this semester- but no worry: many more semesters to come.




Possible Course Selection for Spring 2007

ENG 280 | COLLEGE COMP II | 03:00 pm - 04:15 pm | M.W...... | SIMPKINS 314 | PARKINSON E J
WS 310 | BLK WOMEN U S | 04:30 pm - 07:00 pm | ..W...... | CURRENS 336 | WEST C S


WS 285 | MULTICULT WOMEN | 09:30 am - 10:45 am | .T.Th.... | MORGAN 109 | RADOSH M F
PSY 221Z | PSY OF CHLD DEV | 11:00 am - 12:15 pm | .T.Th.... | WAGGONER 137 | KELLY R M
POLS 335 | WOMEN & POLITIC | 12:30 pm - 01:45 pm | .T.Th.... | MORGAN 314 | DEITZ J L
SOC 100 | INTRO SOCIOLOGY | 02:00 pm - 03:15 pm | .T.Th.... | MORGAN 101B | MCGINTY P J



So, yes... where to start?

I picked the night class because I hear West is really awesome; she's a great teacher and her classes are worth attending.

English 280 is default. I could try to test out of this one too; 180 was cake. However, why not take it? Jeff's learning a lot of useful paper-writing tips in his class and I'm envious.

The Multicultural Women class will be my third with Professor Radosh. Jeff thinks I'm romantically infatuated with the woman, but it's not true. It's just that I've never, EVER been more enthralled in a class. She's so knowledgeable. Ask her anything and she has such a wide knowledgebase.

I really enjoyed my Psych class last year, and this subject especially. However, I think Z means First Year Experience/Writing Intense Course. It doesn't make sense though because it's a 200 level class.

The Political Science class would be my second with Deitz. I didn't care for her teaching style all that much last year; too many notes and she talks waaaaay too fast in her thick Southern accent. BUT, after having a few after-class chats with me, she personally invited me to enroll in the Women in Politics course that she knew she would be teaching in SP 07. So... I don't know, why not take it?

Last but not least, Introduction to Sociology. I've already taken... oh, I don't know, three or four Soc classes, but because they were all cross-referenced, I don't actually have any Soc credits under my belt. Which means if I ever want to take a Soc class that isn't cross-referenced, I can't take it due to lack of pre-requisites... DESPITE the fact that I have a four hundred level class completed in that department. Necessary (boring) evil. I know it's going to be bad simply based on which classroom it's it. Morgan 101 B. Observe the math:

First floor in a major academic building = lecture hall
Lecture hall with a letter = tiny, sad excuse for a lecture hall with poor ventilation



Anyway, I know you're all enduring Miranda Blog overload.
Hope you enjoyed it.



Saturday, August 12th, 2006
---
12:35 am
- Buccaneers, Baby!
My First NFL Game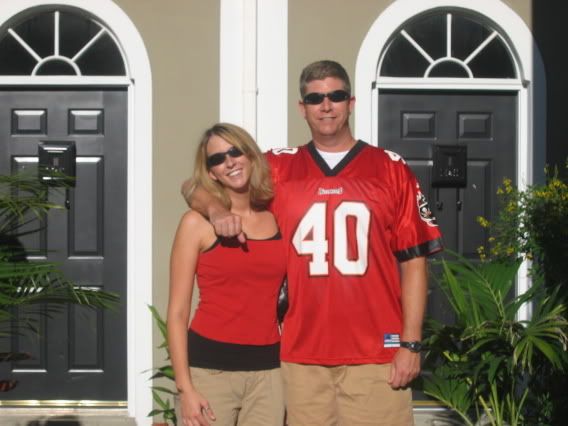 I finally got to an NFL Game.
Tampa Bay Buccaneers!
Father had me dress in the appropriate colors,
which is why I'm wearing Tiffini's red tank top.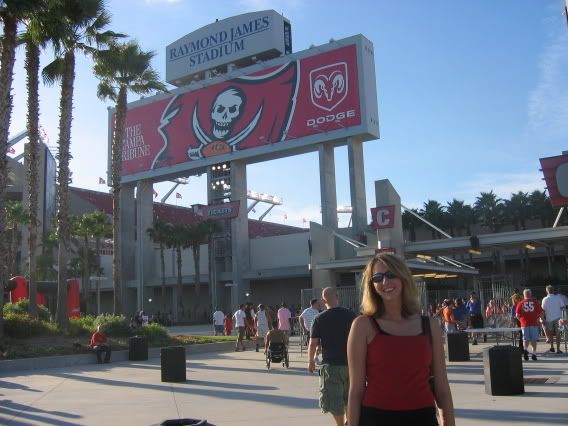 Raymond James isn't too far from the House.
And Father and Tiffini had a system worked out;
She dropped us off about two blocks,
and we joined the masses into the stadium.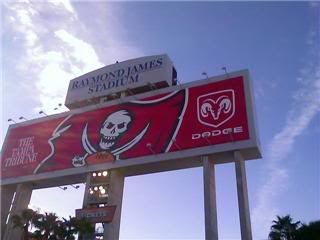 Cell phone picture.
Great, isn't it?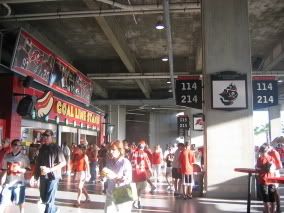 Even though it was only a Pre-Season game, the stadium had a great atmosphere.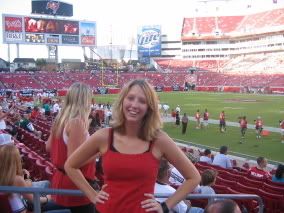 Funny story about this picture.
Basically- and I'll leave it at this- the on/off button and the shutter button are an awfully lot a like,
and this was the third attempt at taking my picture.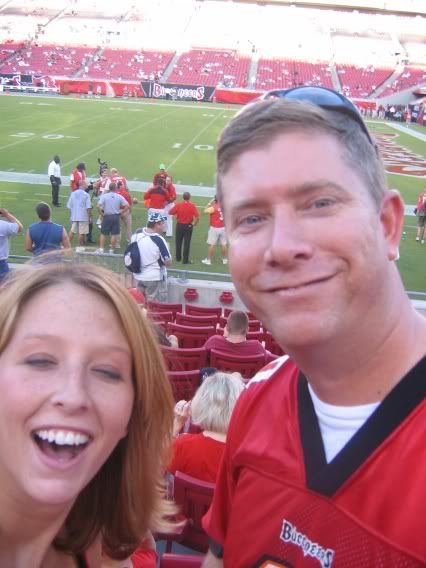 … Badly Taken Self Portrait. Gosh. I'm ridiculous.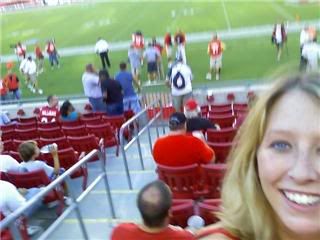 Cell phone picture, pointing out how close we were to the field.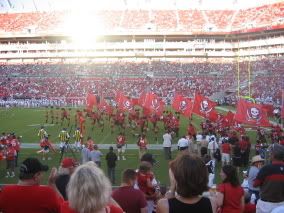 The Bucs taking the field.







It was hot. Even at night.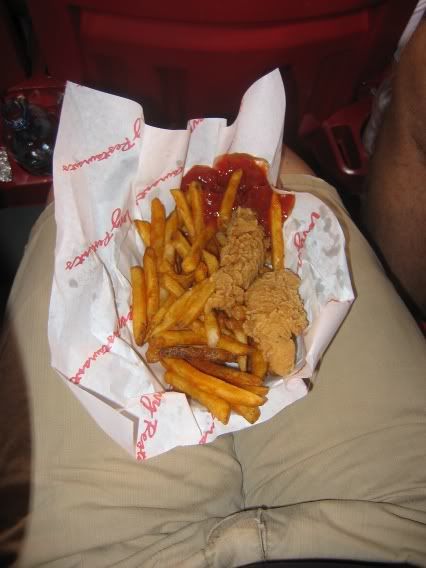 Stadium food.
Expensive, but delicious.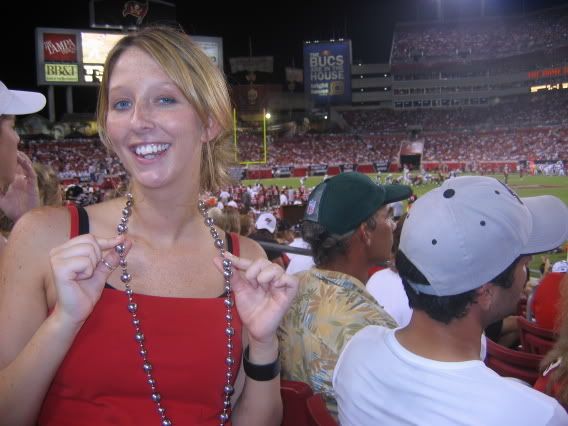 There were a few guys out on the field, throwing beads.
I really wanted a pair.
"Why? I have a whole closet full."
"It's not the same. It's my first game. I want my own."
"How about I slip some under your pillow?"
"No!"
And then I caught these.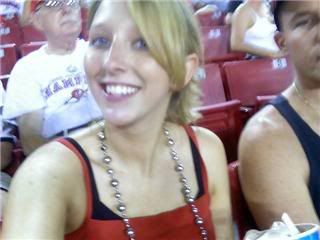 I was elated.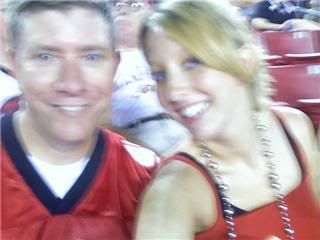 And I kept sending everyone Pix messages, showing them my BEADS!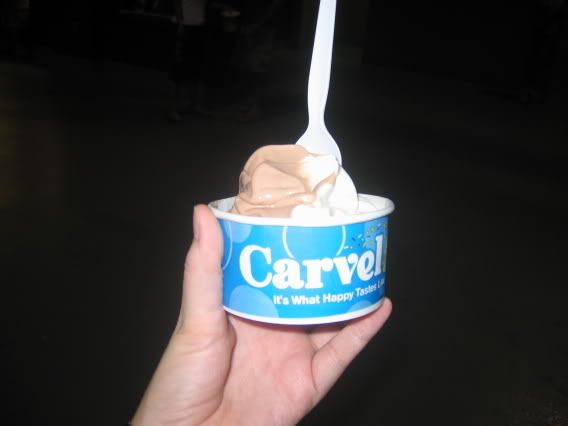 Carvel was a must.
A DELICIOUS must, at that.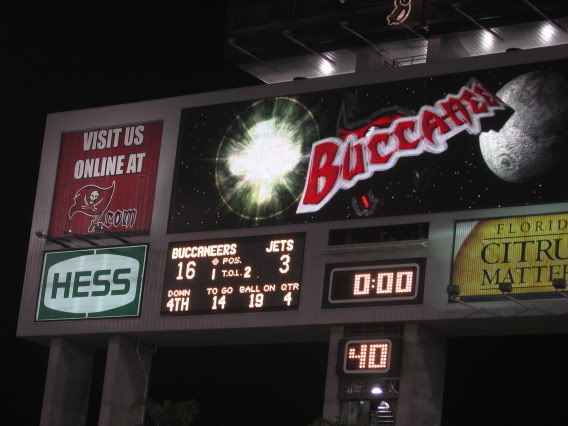 Bucs won.
They beat the Jets.
I was mad they didn't actually TRY to score again,
but oh well.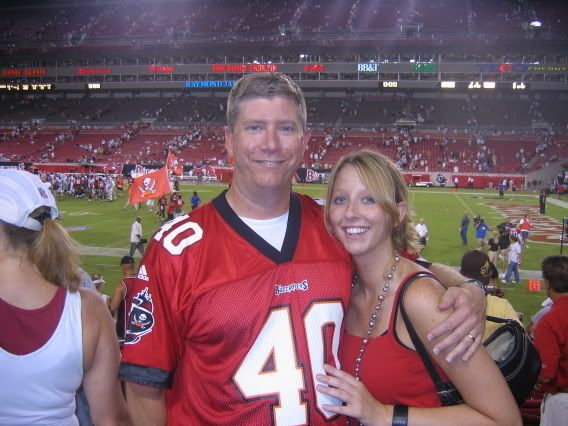 It was a great game.
A great first game.
I hope there are more games to come.
Maaan, I love football.




Wednesday, May 31st, 2006
---
11:22 pm
- The Dark Con of the Field Museum

I went to the Field Museum to see Tut.
After the build up of a really great exhibit- all of the amazing artifacts and the money-well-spent audio tour- I found myself not walking into Tut's tomb, but the gift shop.

"Excuse mam, where is Tut?"
"Oh, he's in Cario."




It only took sixty dollars to realize it was the biggest scam of all time.
Who cares that they've been advertising "TUT!" like crazy all over the Chicago land area.
Tut is NOT in Chicago.



Tuesday, May 30th, 2006
---
11:57 pm
- Visual Proof of Bacon Bringing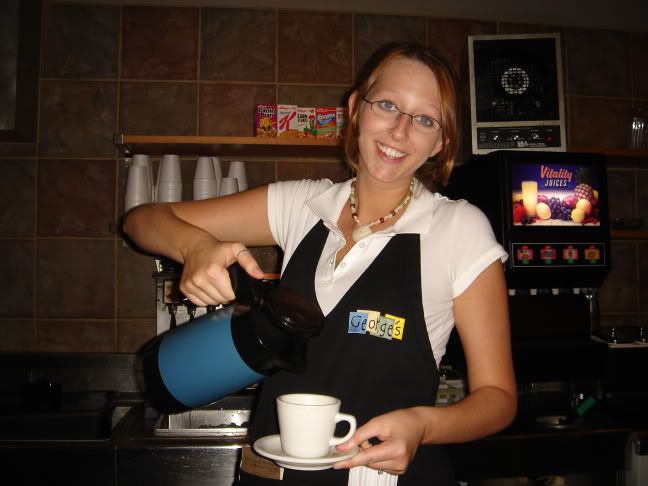 Look! I can pour coffee.
Isn't my apron marvelous?
I get to keep it!




I like my job after a long day with two full days off ahead of me.
Tomorrow Jeff and I are going into the city.
The Field, maybe the Shed, maybe Science and Industry.
Planetarium is way cheap.
He gets free admission to them all.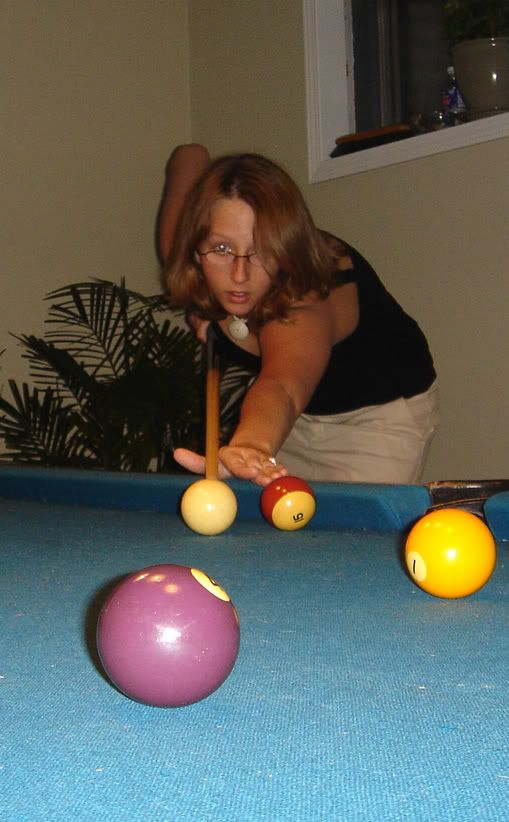 We've been playing a lot of pool lately.


Monday, May 29th, 2006
---
11:52 pm
- The Layout

I just used Quicken to figure out a mass amount of inaccurate numbers. Using rounded-down guesstimations, I figured out what X amount I can spend each week while earning Q to determine when I can stop working a summer job. I took everything into account:

(each daily amount in tips x days worked per week) + (salary earned per hour x hours per shift x shifts per month) = n

3(rent) + projected apartment costs + estimated text book costs + Jeff's birthday gift + a reasonably-comfortable amount of money spent per week from now until September 1 with no further income after the week of July 23 = y

n - y = 0



Now I'm exhausted.

I'll let you know if my formulas were right.





Tuesday, May 23rd, 2006
---
2:03 pm
- Growth Observed
Saturday, May 20th, 2006
---
5:29 pm
- Accomplishments | Week 1
One Week Into Summer Vacation and I've Already...
Mailed two letters

Obtained a job, not at Target, but George's

Had my brother and cousins over for a slumber party

Fung Shuied my Living Space

Used black permanent marker to make old shoes look brand new

Hung out with an old friend whom I hadn't seen in ages

Became a grandparent to nine degus

Saw an amazing movie (DaVinci Code)

Acquired somewhat of a Tan




Feeling Good.



Wednesday, May 17th, 2006
---
10:17 am
- Litter of Umpteen
Thursday, May 11th, 2006
---
10:53 pm
- 1/8 of the Way Done

My first year of college is over.

Grades will be out soon.



Tuesday, May 2nd, 2006
---
11:41 pm
- Tennis Elbow

Jeff and I played a couple hours of tennis this evening. The courts are really close and stay lit as long as you want. We rented rackets from the rec. It was a lot of fun and it disappoints me that we only just discovered this past time.


A friend of ours turned 21 today. We went with him to the liquor store at midnight last night, but the lady working there didn't even card him for his rum. It was a sad sight.


Two degus are going to give birth any day now.
Pray they hold off until after finals.



Tuesday, April 25th, 2006
---
4:52 pm
- Two Weeks

There are two week left of semester, I'm so stressed out, and the weather just turned nasty.
I can't think of anything that would make me feel better.
Not ice cream or sleep or a trip to Lake Argyle.
Bluuuuuuegggh.


Monday, April 24th, 2006
---
12:30 am
- Tampons and 2nd Class

Jeff and I went running for the first time in a while. I was good. I'm playing Sims2 and being full of righteous anger. You'll understand after reading what I wrote to a high school age friend of mine. She had had a very bad day because her period had started and- the school bathroom not selling any type of supplies- had to face the embarresment of the nurse's office:


"Wow. I'd start a movement in your school. Take away the boy's toilet paper and make them go to the nurse every time they have to shit, because boys doing the number 2 in school occurs about as often as we forget to carry a tampon: it happens but it's damn inconvenient.

"Not offering sanitary ANYTHING in the bathroom is such second class status. That is the school officials saying, "we don't care about the needs of the female students." Isn't it?

"Please don't stand for that. Think of all the embarrassment the girls of your school have to go through simply because they're girls. Hating your menstrual cycle is something masochistic. Don't let arrogant, thoughtless men make you hate your ability to not only GROW life in your body, but also support life after birth.

"I'm done preaching. Really, just blowing off some steam because our school does the same thing. Only we have like... one tampon machine per building, and the rest of the girl's bathrooms contains signs as to where to locate the single machine. It burns me up."

So yeah, crazy, angry stuff. What keeps me happy is that Jeff agrees with me. I think I'd like to do something about this issue. I'm not exactly sure how. Maybe hang signs over the toilet paper rolls in the boys bathroom saying something like, "Could you imagine if this roll wasn't here right now? Could you imagine not having the neccessary sanitary devices you need for your natural, bodily occurance. Welcome to womanhood. Suppport Machines in every Bathroom."

I don't know. I'll talk to the Women Studies department. I know they tried to tackle this issue a decade or so ago. Their progress: signs in bathrooms telling girls where they can locate the nearest machine. The sad part is, in buildings like Waggoner, they only sell pads anyway. Useless.

My last weekend on campus is over. Goodnight.



Thursday, April 20th, 2006
---
4:57 pm
- Sharing the Future

The following is a portion of my proposal for IDS.
It's a list of all the classes I have or will enroll in, give or take a few.


Proposed Coursework by Concentration

Department Name
And Course No. ----- Course Title ----- Hours Credit

*Art 140 ---------- Drawing I ---------- 3
Art 350 ---------- Painting I ---------- 3
Art 451 ---------- Painting II ---------- 3

Biol 102 ---------- Biology Diversity ---------- 4
Biol 103 ---------- Biology Principles ---------- 4

Chem 201 ---------- Inorganic Chemistry I ---------- 4
Chem 202 ---------- Inorganic Chemistry II ---------- 4
Chem 331 ---------- Organic Chemistry I ---------- 5
Chem 332 ---------- Organic Chemistry II ---------- 5

Cs 101 ---------- Intro to Computer Science ---------- 3

Econ 231 ---------- Macroeconomics I ---------- 3
Acct 201 ---------- Principles of Financial Accounting ---------- 3
Fin 311 ---------- Intro to Finances ---------- 3
Econ 232 ---------- Macroeconomics II ---------- 3
Econ 331 ---------- Intermediate Microeconomics ---------- 3
Econ 332 ---------- Managerial Economics ---------- 3

*Eng 180 ---------- College Composition I ---------- 3
Eng 195 ---------- Into to Literature ---------- 3
Eng 280 ---------- College Composition II ---------- 3
Eng 380 ---------- Writing in Humanities /Social Sciences ---------- 3

*FR 121 ---------- French I ---------- 4
FR 122 ---------- French II ---------- 4
FR 223 ---------- Intermediate French I ---------- 3
FR 224 ---------- Intermediate French II ---------- 3
FR 325 ---------- Conversation and Composition I ---------- 3
FR 326 ---------- Conversation and Composition II ---------- 3
FR 327 ---------- Introduction to French Literature ---------- 3

Geog 110 ---------- World Regional Geography ---------- 3

He 120 ---------- Personal Health Promotion ---------- 2

Hist 125 ---------- Western Civilization to 1648 ---------- 3

Kin 121 ---------- Badminton ---------- 1
Kin 117 ---------- Pilates ---------- 1

*Phys 124 ---------- General Physics ---------- 5
Phys 125 ---------- General Physics II ---------- 5
Phys 101 ---------- Introduction to Astronomy ---------- 3

Pols 122Z ---------- American Gov't / Politics ---------- 3

Psy 100 ---------- Intro to Psychology ---------- 3
Psy 343 ---------- Physiological Psychology ---------- 3

*Rel 201 ---------- World Religions ---------- 3

Ws 190 ---------- Intro to Women Studies ---------- 3
Ws 303 ---------- Women in Religion ---------- 3
Ws 321 ---------- Women's Health ---------- 3
Ws 360 ---------- Gender Roles ---------- 3

Total Hours: 138 / 120 needed
Hours in Classes 300 and Above: 52 / 40 needed



Fall Semester Classes*
Monday
General Physics | 10 - 10:50
Intro to French | 11 - 11:50

Tuesday
General Physics (Discussion) | 8 - 8:50
Intro to French | 11 - 11:50
World Religion | 12:30 -1:45
Drawing I | 2:00 - 4:30

Wednesday
General Physics | 10 - 10:50
Intro to French | 11 - 11:50

Thursday
General Physics (Lab) | 10 - 11:50
World Religion | 12:30 -1:45
Drawing I | 2:00 - 4:30

Friday
General Physics | 10 - 10:50
Intro to French | 11 - 11:50



Questions, Comments, Concerns?
<br